FreemanXP uses the power of social engagement to inspire audiences to action. Whether online or face-to-face, FreemanXP connects individuals and brands in ways that accelerate engagement and create transformational change on a global scale.

FreemanXP is a global brand experience agency with the greater Freeman organization, offering a full range of marketing solutions from strategy and creative services through event/production management and measurement.
Services
Proprietary Events
Meetings and Conferences
Special Events
Trade Show Exhibits
Production Management & Execution
Conference Management
Product Launches
Digital Integration
Event Strategy and Portfolio Planning
Sponsorship Strategy
Entertainment Marketing
Event Measurement
Locations
Clients
The New NYE

Each new year brings new opportunities. For the city of Chicago, that meant launching a brand-new tradition: Chi-Town Rising. Event organizers had a bold vision for the city of Chicago: create a live and televised destination event to extend the celebration from New York City's iconic Times Square ball drop. The winter celebration was created to spark excitement for locals and increase tourism for the city as a New Year's Eve destination. Freeman was selected by the executive producers at Arena Partners and One618 to assist with everything from production to sponsored parties. READ MORE
Work on What You Love — Bruce Mau: Rethinking Design

Each year, the Philadelphia Museum of Art (PMA) and Collab, a group of design professionals and enthusiasts, present the Design Excellence Award to an individual who inspires the design community. This year, the Design Excellence Award was given to Bruce Mau, Chief Design Officer for Freeman. A design visionary, Mau has worked with countless corporations, institutions, and countries on game-changing projects utilizing his design thinking methodology. As part of the Design Excellence Award, PMA asked Mau to showcase his life's work in the museum with an exhibit focused on his collaborations and 24 design principles. These principles inspire people to approach challenges in life and work with a designer's eye and creative mind, just as Mau does in his own work. Freeman collaborated with PMA, Mau, and his team to develop an immersive exhibit not only featuring but connecting nine of Mau's design projects and telling an immersive, inspirational story. READ MORE
A Curated, High-touch Experience

The Salesforce Executive Summit is an intimate and engaging environment for the top C-level executives at Dreamforce, the largest annual gathering of the Salesforce community. The Executive Summit provides exclusive access to a series of transformational workshops and roundtables to learn about proven frameworks and accelerate time to value. Salesforce worked with FreemanXP to create an exclusive destination within Dreamforce that was specific to this high-profile audience. READ MORE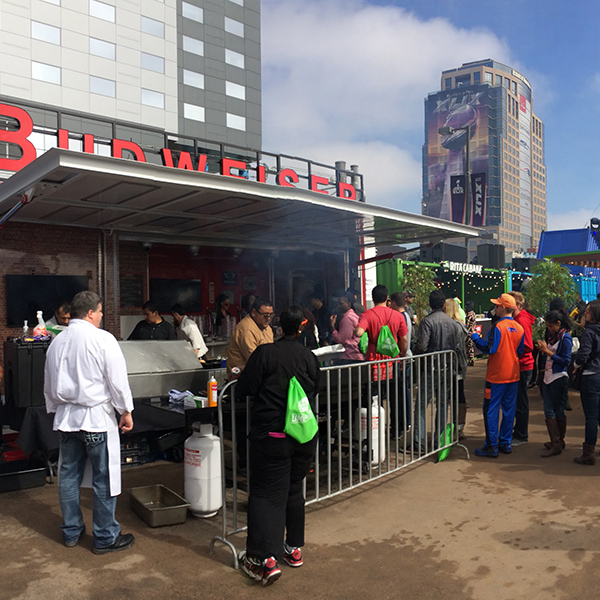 Signature Draught Shines at the Big Game
Anheuser-Busch has developed a cutting-edge approach to the age-old act of pouring a draft beer. The Budweiser Signature Draught pouring technology, serving beer at precisely 29 degrees Fahrenheit to deliver the coldest, creamiest beer drinking experience possible. With the goal of debuting this new technology as part of the Bud Light "House of Whatever" party at the Big Game, Anheuser-Busch turned to FreemanXP for help. READ MORE
A high-energy gathering of over 7,000 marketers, Marketo's Marketing Nation Summit is considered by many to be the premier event in the marketing industry. Focused on reinforcing its leadership, providing education, and fostering community, Marketo's goal was "Inspiration in the Nation," seeking to inspire marketers as a whole – not just Marketo customers – while also fostering a sense of community. The company also sought to reinforce its leadership in the evolution of marketing, while driving business results and building peer-to-peer networking opportunities. READ MORE
Solutions
FXP | think: Strategy
No one knows audiences like Freeman, and our strategy practice marries this inside knowledge with proprietary research.
FXP | splash: Creative
Experience design is an evolving art and FXP | splash is constantly immersed in traditional and emerging creative concepts to bring the most impact to our programs.
FXP | do: Execution
Whether it's a virtual events platform, a live event for 10,000 people, or something in between, our teams deliver flawlessly executed programs on time, on budget.
FXP | clik: Tech
Social engagement is the objective of all the programs we develop, so we integrate digital and social media into everything we do.
FXP | rok: Entertainment and Speakers
Nothing engages audiences like a great performance. Our team of industry insiders connect your message with some of the most memorable speakers and performers on the planet.
FXP | rev: Sponsorships
We help create diverse and thriving partnerships that bring in revenue, attract new attendees and enhance their experience.
FXP | crunch: Measurement
Experiences are only as valuable as the results they deliver. We pride ourselves on building effective programs that deliver tangible results— each and every time.
FXP | touch: Second Screen
Our proprietary second screen technology maximizes the impact and value of general sessions, keynote presentations, demos, learning sessions, and panel discussions.
FXP | cloud: Social Engagement
Audiences are connecting, learning, and sharing through integrated live and online events now more than ever before.