FreemanXP is a global brand experience agency that empowers brands through personalized experiences.
From strategy and creative to digital, event technology and logistics, we create personalized experiences to meet the changing demands of a global audience.
We are campaign focused and results driven.
We build brand experiences across marketing channels.
We bridge the gap between live and digital worlds.
We connect the dots between audience insight and execution.
We think about the why behind the what.
And we use intersectional design thinking to bring diverse perspectives together to create the best ideas and make experiences better and more efficient.
FreemanXP is backed by the stability and 90-year history of Freeman. We leverage this experience and our unmatched global resources to bring a whole new level of flexibility and scale to our clients' programs.
Services
Proprietary Events
Meetings and Conferences
Special Events
Trade Show Exhibits
Production Management & Execution
Conference Management
Product Launches
Digital Integration
Event Strategy and Portfolio Planning
Sponsorship Strategy
Entertainment Marketing
Event Measurement

Success Stories
BMW — The All-New BMW 5 Series Launch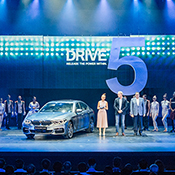 One of the world's leading luxury automotive brands, BMW, required an exclusive, invitation-only lifestyle launch experience to reveal its latest seventh generation 5 Series sedan. FreemanXP partnered with BMW Asia to design, customise, and deliver in 10 weeks a never-before-seen, immersive show experience that fully embodied the persona of the vehicle, and its protagonist, the Business Athlete. READ MORE
Philadelphia Museum of Art — Design Excellence Exhibit


Each year, the Philadelphia Museum of Art (PMA) and Collab, a group of design professionals and enthusiasts, present the Design Excellence Award to an individual who inspires the design community. This year, the Design Excellence Award was given to Bruce Mau, Chief Design Officer for Freeman. A design visionary, Mau has worked with countless corporations, institutions, and countries on game-changing projects utilizing his design thinking methodology. As part of the Design Excellence Award, PMA asked Mau to showcase his life's work in the museum with an exhibit focused on his collaborations and 24 design principles. READ MORE
InfoComm — Immersive Technologies Experience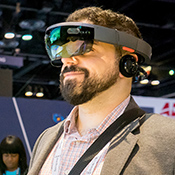 InfoComm is the premiere brand experience for the audio visual industry. Its latest event boasted 1,000 exhibitors and 40,000 attendees from 100 countries, all in 545,000 square feet of exhibit space and 24 audio demo rooms. Always serving its audiences with the best and latest tech, the association sought to showcase virtual reality, not as a vogue attraction but as a practical yet effective solution for many industries. READ MORE
The largest gathering of the online video community, VidCon rallies a diverse audience of millennials and Gen Z with a shared passion. VidCon was created to give face-to-face connections to the creators and community members. But this tech-savvy group requires more than just a meet and greet to get them away from the screen. They need an experience that allows them to make connections, share ideas, and meet their icons – and it all must be social media share-worthy. READ MORE
Marketo — Marketing Nation Summit
Each year, digital marketers travel to join in the experience of Marketo's annual Marketing Nation Summit. A discerning crowd, they come not only to engage in an energetic community of peers, but also to collect data on marketing ROI, gain insights into marketing automation, and find answers to their toughest marketing questions. READ MORE