Providing custom specialty vehicles across the country
You envision it; APEX builds it. Recognized as a custom specialty truck and trailer fabricator, APEX has extensive experience with large brands and successful businesses.We focus on the design and engineering aspects of the process first and most importantly. WIth an in-house engineering and design team, we find the main reason why 98% of our custom builds are successful is because of the initial investment in making sure the unit is efficient, effective, sound, and ready to generate ROI.
Our custom-builds includes trucks and trailers within the following segments:
Mobile Food/Mobile Kitchens
Sampling - Product, Beverage, Technology
Beverage
Catering
Experiential Marketing
Mobile Marketing & Activation
Merchandising & Retail - Brands/Products
Professional Sporting Retail Store
Hospitality and Brand Awareness
Healthcare/Exam Rooms
Command Centers
Educational/STEM Units
Galleries/Museums
Radio/Broadcasting Stations
Offices/Temporary Workstations
---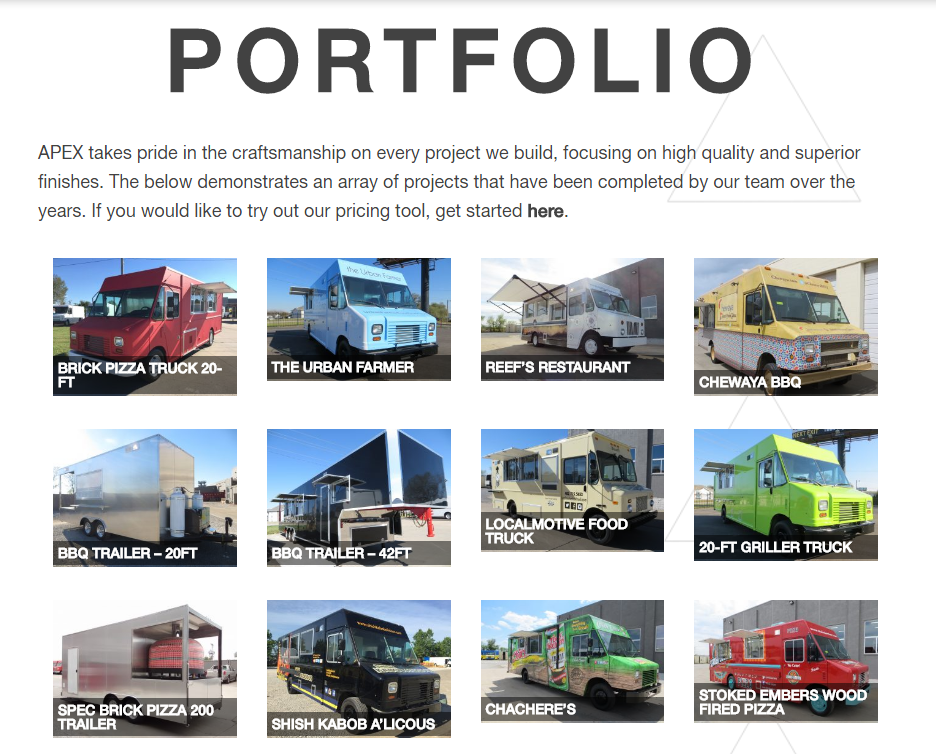 Our experience ranges from custom food trucks and trailers for national francises, restaurants, and catering businesses. APEX also fabricates mobile marketing vehicles, mobile sampling/kitchen units, mobile retail/merchandising trucks, and experiential marketing vehicles. Check out some of our past projects in our online Portfolio!
One of the main differences between APEX and other builders is our SPEC line of truck and trailer products, which are pre-designed and pre-engineered. If your needs are beyond the SPEC line, we offer a custom series for projects outside the box. We stand by our craftsmanship on every unit that leaves our facility by offering an unmatched 5-year warranty, the most extensive in the industry.
| | |
| --- | --- |
| PRE-ENGINEERED: SPEC Truck & Trailer Models | Fully Custom Truck & Trailer Models |
| The SPEC series is APEX's line of pre-engineered trucks and trailers that have a much faster turnaround time than our fully custom trucks and trailers. Our in-house design and engineering team has repeatedly planned, designed, and built SPEC models for past customers, which allows you to benefit from the successes of prior builds, increasing your ROI. By selecting from over 60 SPEC pre-engineered trucks or trailers, APEX's process-driven system will ensure you receive a high quality build with an unmatched 5-year craftsmanship warranty. | The APEX Custom series allows your vision to reach fruition. The custom projects extend outside of the scope of the SPEC series. Our Custom process begins with an onsite visit to our facility, where the APEX engineering and design team will work closely with you and provide 3D renderings and a full scope of work. After the customer understands each element of their build, the project begins the production phase, and can be completed within 4-6 weeks. |
| | |
| GET STARTED | VIEW TRUCKS VIEW TRAILERS |

Exceptional Warranty: Apex Specialty Vehicles offers the most extensive 5-year warranty
APEX's high quality craftsmanship is backed for two years longer than the industry standard warranty. Our 5-year unbeatable warranty offers piece of mind to ensure your vehicles are on the road and generating profit. When you partner with APEX, our goal is get you back on the road quickly and without downtime.
In-House Design Team: Our experienced in-house engineering and design team brings your vision to life
The APEX experience incorporates 3D models to encourage clarity and transparency on the design and build process. For each specific project, floorplans and 3D models are rendered to size, eliminating any uncertainty of the equipment layout and configuration. The design phase allow for multiple configurations to be reviewed and evaluated quickly and efficiently with the use of 3D models.
High Quality Craftsmanship: People. Process. Product.
APEX's custom marketing and experiential trucks and trailers raise the bar for quality and craftsmanship. Our process is quality-driven; our people are truly incredible and committed craftsman; and our products speak for themselves. Check out our portfolio for a library of past projects!

Check out a video demonstrating the APEX difference: https://www.youtube.com/watch?v=q9meS03Sj_k
We invite you and your team to visit our 50,000 sq ft facility outside of Kansas City. Schedule your visit today! 816.853.3360
Are you ready for a quote? Get started here!